Congratulations to investigators at Hannover School of Medicine and Heidelberg University Hospital for receiving the 2022 SNMMI Image of the Year Award and JNM Editors' Choice Award for Overall Best Article in 2021, respectively. Both use FAPI as the primary indicator and further underscore its potential impact as a novel radiopharmaceutical.
Each year, SNMMI chooses an image that best exemplifies the most promising advances in the field of nuclear medicine and molecular imaging. This year, the honor went to researchers at Hannover School of Medicine who demonstrated that 68Ga-FAPI-46 PET, when correlated with cardiac MRI, is a new specific indicator of active fibrosis and can identify a patient's chance of recovery following a heart attack.  The depiction of 68Ga-FAPI-46 PET signal after acute anterior myocardial infarction was selected as SNMMI's 2022 Image of the Year.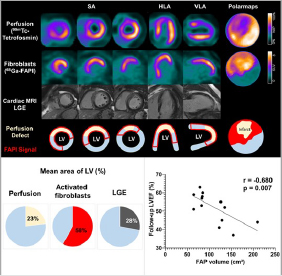 Abstract 413. "Predicting Remodeling and Outcome from Molecular Imaging of Fibroblast Activation in Patients after Acute Myocardial Infarction," Johanna Diekmann, James Thackeray, Thorsten Derlin, Christoph Czerner, Tobias Ross, and Frank Bengel, Department of Nuclear Medicine, Hannover Medical School, Hannover, Niedersachsen, Germany; and Tobias Koenig, Jonas Neuser, Andreas Schaefer, Jochen Tillmans, and Johann Bauersachs, Department of Cardiology and Angiology, Hannover School of Medicine, Hannover, Niedersachsen, Germany.
A paper featuring 68Ga-FAPI PET in pancreatic ductal adenocarcinomas by a team at Heidelberg University Hospital was selected by the Journal of Nuclear Medicine (JNM) to receive the Editors' Choice Award for the Overall Best Article in 2021. 
Impact of 68Ga-FAPI PET/CT Imaging on the Therapeutic Management of Primary and Recurrent Pancreatic Ductal Adenocarcinomas
J Nucl Med. 2021; 62:779–786, Manuel Röhrich, Patrick Naumann, Frederik L. Giesel, Peter L. Choyke, Fabian Staudinger, Annika Wefers, Dawn P. Liew, Clemens Kratochwil, Hendrik Rathke, Jakob Liermann, Klaus Herfarth, Dirk Jäger, Jürgen Debus, Uwe Haberkorn, Matthias Lang, and Stefan A. Koerber
Department of Nuclear Medicine, Heidelberg University Hospital, Heidelberg, Germany
Primary staging of a patient with PDAC. (A) Axial images of PDAC and liver in arterial (upper image) and venous (lower image) ceCT scan. (B) Mean intensity projection (MIP) images of 18F-FDG and FAPI PET/CT imaging. (C) Axial 18F-FDG and FAPI PET/CT images of same patient on level (blue line in A) of pancreatic tumor mass and another suspicious FAPI accumulation in projection on perihepatic lymph node. Metastatic situation, which had been revealed by FAPI PET/CT, was confirmed by biopsy of pulmonary lesion that was diagnosed as metastasis of known PDAC.
For more information, please contact us.