DEVELOP AND DELIVER
Staying true to our vision to improve patient outcomes by developing and delivering molecular diagnostics and therapeutics, SOFIE has acquired global rights for the diagnostic and companion diagnostic use of the FAPI family of compounds from University of Heidelberg, the team that invented PSMA-617 (Novartis).  The FAPI family of compounds have demonstrated promising theranostic potential.
Fibroblast activation protein (FAP) is a well-known target shown to be overexpressed on cancer associated fibroblasts (CAFs) present in the tumor microenvironment across a variety of cancer types. In addition to oncology, FAP overexpression has been linked to non-malignant processes and disease, including wound healing, chronic inflammation, myocardial infarction, benign tumors and fibrosis. The FAP inhibitor family of compounds (FAPI) allows non-invasive visualization of this important target for oncology and non-oncology indications through binding to FAP with low nanomolar affinity. These compounds can be labeled with various isotopes, including Gallium-68 and Florine-18, for use in PET imaging.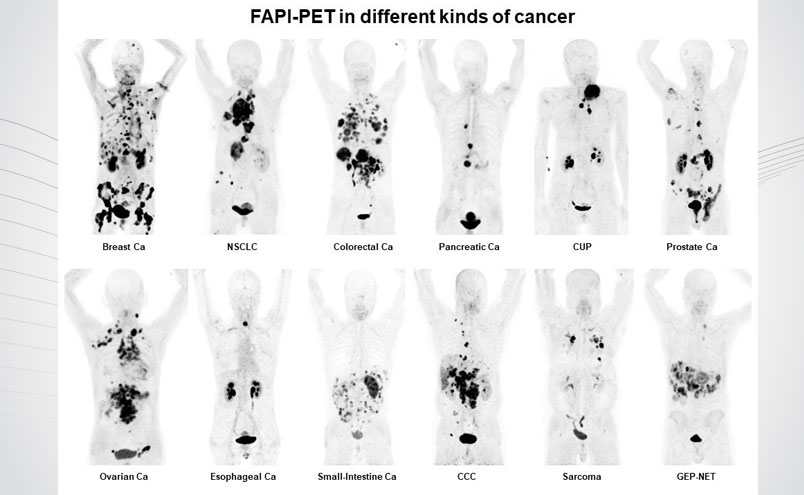 SOFIE is actively pursuing the clinical development of two lead compounds: FAPI-46 as its lead Ga labelled and FAPI-74 as its 18F labelled compound. Both have demonstrated favorable biodistribution and dosimetry, target-specific uptake, excellent tumor to background ratio, and no toxicity observed in animal models and human subjects. The FAPI compounds have been published in over 2,000 patients showing equal or superior performance over FDG or standard of care in various cancer indications.
"FAPI is opening new doors in nuclear medicine, not only in imaging but also in theranostics."
Dr. Frederick Giesel, M.D, M.B.A.

Universität Heidelberg

 · Nuclear Medicine